I am a Salesperson
---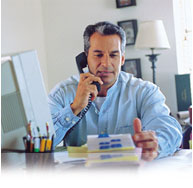 Easy and quick to use – SalesLogix is easy and quick to use because it was designed for fast-moving salespeople like yourself. Navigation buttons, pop-up lists, customizable toolbars and hotkeys mean you can do more with less typing. Your important data from your old inferior sales system can be imported into SalesLogix, safe and sound!
Manage your contacts, accounts, opportunities – Instantly access your contact, account and opportunity status, notes, history and correspondence. You always know what's going on and can share your info with the rest of your group for top performance team selling.
Keeps you on schedule – View your activities and commitments by day, week or month and work more efficiently through your prioritized to-do list. Coordinate with your team using group scheduling with conflict resolution. SalesLogix can be used on your desktop, laptop, palm-pilot or Windows CE device. Pretty cool stuff!
Keeps you in touch – Even if you are away from the office a lot, you can still get updates and hot leads through data synchronization with your office. You can access your sales library, generate correspondence, create literature fulfillment, email and track the status of each task. No one likes to be left out of the loop! SalesLogix can be your advantage.
I am a Sales Manager
Keeps you in touch – No more begging for reports! With SalesLogix, all customer info is consolidated across your sales force and allows you to receive up-to-date sales forecasts and reports automatically. Examine opportunities, request data by region, lead source, industry, position in pipeline etc. Historical data can help you calculate the odds of closing new deals. You can see the data any way you want. It's always nice to get what you want!
Turn leads into sales – Capture your leads through campaigns, trade shows or even directly off the web. You can qualify them and then distribute them to your team. All your leads are tracked through the entire sales pipeline. Time-consuming tasks like literature requests, proposals, follow-up letters etc are automated so your salespeople spend more time focusing on customers. SalesLogix is truly a win-win solution for both your sales and the customer.
Increase revenue by maximizing use of your back-office – Stock SalesLogix with your whole sales artillery (products, substitutes, pricing, competition etc) and your sales team can turn on-site quotes into sales. You can even tie in your accounting system for greater sales efficiency and accuracy. Salespeople can access customer financial details like invoices, credit status, past due balances etc. The more info your salespeople have to use on the spot will increase their chances of closing.
Start now, get results now – With SalesLogix, you don't need to spend months planning and custom developing your sales automation system. You can have SalesLogix up and running in a few weeks. Your salespeople can use the tools that will benefit them right away, later you can make changes and add capabilities as you go. Very practical, very clever, don't you think?

I am an Executive

Create a selling machine – SalesLogix is designed to help you get and keep more customers by building solid relationships with them. Since today's modern sales team consists of inside and field sales reps, business partners, customer service/support people, and even accounting people, SalesLogix is an integrated solution that gets people working together to meet your goals.
The power & freedom of info – Making the right decisions is easy when you have the most current, relevant information. You get this info through SalesLogix's enterprise-class reporting system. Graphical reports of your sales forecasts, won/lost opportunities, prospects by lead source etc. are readily at your fingertips, from your email or your intranet and standard web browser.
Reliable now and forever – Whether you have ten or two thousand salespeople and no matter how ambitious your growth plans, SalesLogix will suit you perfectly. Choose the client/server solution or web-powered solution or both! It's flexible for meeting your needs. All your salespeople will gladly switch to it since all their important data can be imported right into SalesLogix from their old inferior systems!
Maximum revenue, minimum risk – We understand your main focus should always be revenue generation, not software design. With SalesLogix, you don't need to spend months planning and custom developing your sales automation system. You can have SalesLogix up and running in a few weeks and customize it over time. You get high-end sales force automation without a high price or long, painful implementation. You can also be confident in your investment in standard Microsoft and Oracle technologies.

I am an IT Professional

N-tier client/server plus web – SalesLogix uses standards based leading technology. It is easy to customize implement and maintain. It functions well with thousands of users and millions of transactions. SalesLogix uses Microsoft SQL Server and Oracle (direct, not ODBC connections) for maximum throughput and performance. The web client is very flexible and uses DHTML and server-side customization for zero client maintenance.
Rich & rapid customization – SalesLogix Architect allows you to quickly and easily create a customized solution for your needs. Customize existing screens or create new ones using visual tools that offer standard windows controls. For serious customization and integration, a full set of API's or COM interface controls are available. Once you have made your changes, you can roll them out automatically to everyone or only selected teams or remotes.
More control – The Workgroup Administrator is one central console – you can run the whole show from there! Manage security rights, synchronization settings, realign/reassign activities, menu and toolbar options etc. Data can be shared or prohibited between sales people or teams.
Robust data synch – With SalesLogix, data synchronization is rapid, reliable and flexible. You can synchronize at field level and configure conflict resolution rules. Remote connectivity is supported via RAS, remote-networking protocol, email and across the internet.
What is SalesLogix?
SalesLogix is a revolutionary sales automation system that is client/server based and scalable to fit your business needs today, tomorrow and beyond.
SalesLogix offers you contact management, account management, opportunity management, reporting, web power and so much more.
Your sales team will conduct business more effectively and close more deals. With SalesLogix you get high-end sales force automation without a high price.
It is quick to implement, easy to use, maintain and customize. Today is a great day to sell! SalesLogix makes it so easy!
What can SalesLogix do for me?
You'll wonder how you survived before SalesLogix!
It's the perfect tool to help you sell more, coordinate, strategize and succeed. Whether you are a Salesperson, Sales Manager, IS Professional or Executive, you will love what it does for your business.
How can I see the product?

You'll need to see it to believe it!
So you're asking, "What is all this wild frenzy about SalesLogix?" Well, it's time to put a face to such a great name and reputation! Everyone is anxious to see a product that can radically improve the way you sell and how much you sell…
Executive Kit is
packed with information to help you decide if SalesLogix is what you want. Ideal materials for presentation to your Boss or Co-workers
[Executive Kit]

Screen Shots
give you a quick peek at the intuitive and easy to use SalesLogix interface. [Screenshots]
---