SalesLogix Screenshots
What SalesLogix looks like
---
Familiar
contact manager look and feel, but with enterprise-class power.
Navigation
bar provides fast, easy access.
Everything
accessible from one screen.
Pop-up
pick lists for quick data entry.
Comprehensive
online help.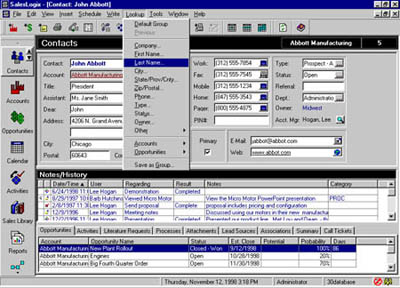 ---
Manage a pipeline of opportunities from lead to close.

Automatically roll up forecast information.

Forward qualified leads to field salespeople.

Easily share information between sales teams.

Create multiple sales cycles with stages and track progress.

Track products, pricing, key contacts, activities and competition for every
deal.

Track lead sources for contacts and opportunities.

Trigger processes to automatically schedule activities and literature requests,
print form letters and more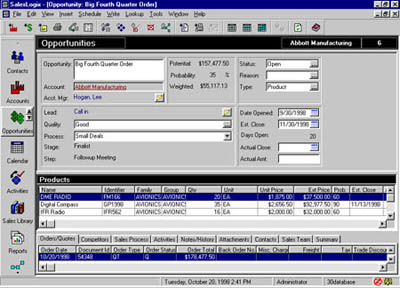 ---
Automatically receive graphical reports generated with fresh data, including forecasts,
lead status, account detail and more.
View built-in and custom reports, including forecasts, account status, activity, address
books, labels and more. 

Build

detailed reports with groups, sub-groups, arithmetic and custom graphs.


Automatically run reports and distribute outside of sales via email.

Access dynamic executive decision-support reports in a web browser on your
Intranet and probe for further details at your option.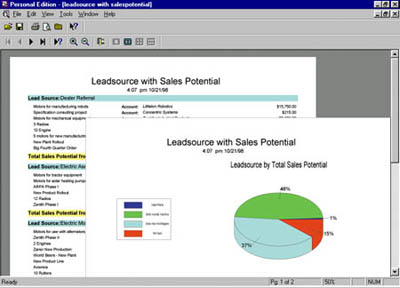 ---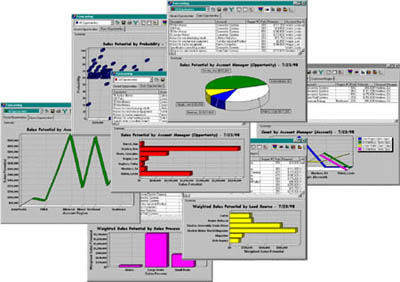 ---
Schedule literature requests from the field, fulfill from the home office and
receive confirmation that materials have been sent.

See additions and changes quickly and easily in a "What's New" view.

Access key sales information, such as price lists and presentations, in the
Sales Library.

Submit literature orders for fulfillment at the home office.

Get hot leads and account updates with remote data synchronization.

Review all changes and updates after synchronization.

Share calendars, contacts and tasks with PalmPilot™ and Windows® CE devices using Puma® Intellisync™.

Organize and manage marketing literature for easy access and selection.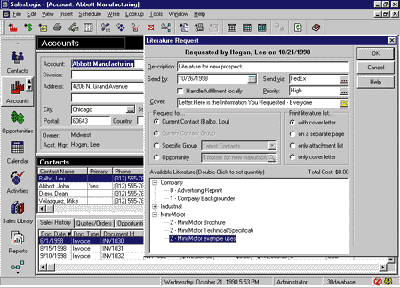 ---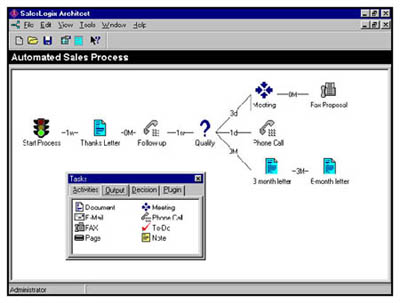 ---
Quickly build custom screens that automatically roll out to the remote salespeople.

Modify the out-of-the-box screens easily to suit your unique business needs.


Customize for data validation, pick lists and custom controls.

Create Guided Selling™ processes to automate sales methodologies or best
practices.

Secure customization from user-level modification.

Distribute updates automatically to remote users.

Create custom menus, tool and navigation bars.
---
Centrally manage user settings, data security, database customizations and more.

Control all user, system and maintenance configuration from a single administrator
console.

Realign territories on the fly.

Schedule system agents for maintenance processing during off-peak times.

Centrally manage files on remote computers and run any remote application automatically.


Replicate user security profiles for efficient creation.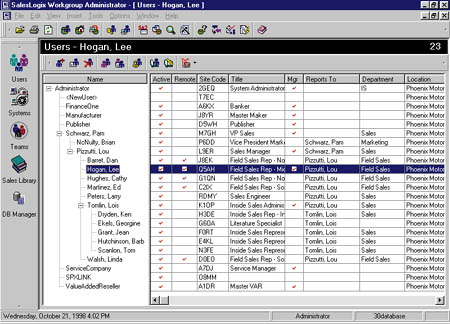 ---
Subscribe to user-defined subsets of available data to minimize data transfer.


Ensure data consistency in all databases across your organization.

Connect and receive changes using a standard RAS connection and apply changes
while offline.

Control changes applied with custom field-level conflict resolution rules.

Prevent unwanted access to data by record — managers can automatically
access subordinates' public data.

Share accounts, contacts and opportunities between users or teams.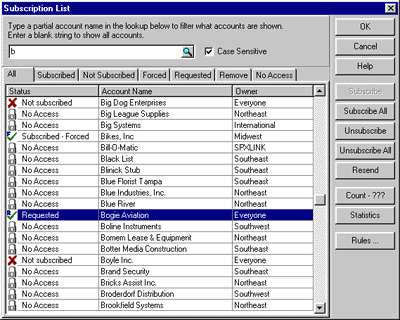 ---
See all support incidents from within SalesLogix and know the status of each.


Work as a team with your support team to never get blind-sided again.

Keep the support team informed of the strategic value of each customer.

Share contact information, such as name, address, phone and e-mail for accuracy
and faster response times.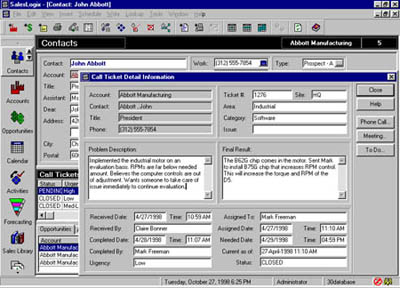 ---
Get More Info
Want to know more? Fill out our Contact form, and we'll send you what you need.
is packed with information to help you decide if SalesLogix is what you want.
Ideal materials for presentation to your Boss or Co-workers
give you a quick peek at the intuitive and easy to use SalesLogix
interface.
[Screenshots]
---