Customers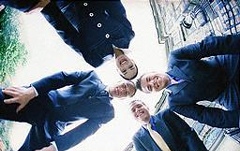 With over 500,000 customers at the end of 2002, SalesLogix is the fastest growing
sales automation software company ever. Customers are found in virtually
every industry, including banking and finance, insurance, manufacturing,
healthcare, service, high technology, construction, publishing, education,
telecommunications, shipping and more. And they're the kind of names you'll
recognize.
| | | |
| --- | --- | --- |
| E-Trade | ADP | Brussels Exchanges |
| Dictaphone | iCat | Watlow |
| British Airways | ABN AMRO Bank | Ask Jeeves |
| MicroWarehouse | Tommy Armour | Tiffany & Co. |
| DoubleClick | Concur | BlueCross BlueShield of Texas |
packed with information to help you decide if SalesLogix is what you want. Ideal materials for presentation to your Boss or Co-workers [Executive Kit]
give you a quick peek at the intuitive and easy to use SalesLogix interface. [Screenshots]