If you are looking to maximize the effectiveness of your CRM software and boost user adoption, look no further than our certified CRM training courses. Encompassing Microsoft CRM training, SalesForce CRM training, Saleslogix CRM training as well as other top 10 CRM solutions on the market; CRM Success is able to meet your company's unique needs.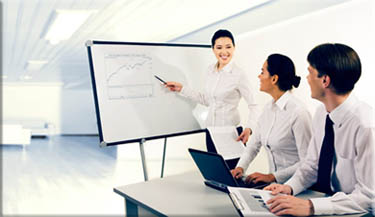 When seeking a CRM training team, remember that all training is not created equal, and neither are all CRM trainers for that matter. With an enviable track record of 25+ years in the industry, there's nobody better to assist with your organization's unique needs.
Detailed and customized CRM training is available for
Microsoft CRM, Saleslogix CRM,Salesforce CRM, Sage CRM, Act, Siebel/Oracle, Outlook and Sugar CRM.
Who Should You Select For Your CRM Training? The Choice Is Clear.
We offer you the most expeienced CRM trainers in the marketplace today
We're focused on your results, not charging additional fees for an extra employee to attend training.
We cut your team's training time thanks to our unique combination of functional training and real-time, live CRM training. In short, we deliver exactly what you need, exactly when you need it.
Maximizing your CRM training investment
We have the most experienced CRM trainers
We do not charge more for an extra person to attend training
We offer the fastest training available because of our functional and real-time live CRM online training: how you need it and when you need it
We offer Microsoft CRM training, SalesForce CRM training and Saleslogix CRM training
Who needs CRM training?
Your organization is unique, and so are your training needs. Our wide range of experience over more than two decades allows CRM Success to understand who in your company needs to be trained, and how to customize their training for maximum results. We are pleased to offer you:
General CRM Training courses (not customized)
System Admin Training
Information Manager Training
End User Training
Remote Client Training
Sales Rep CRM Training
Service Rep CRM Training
Management CRM Training
CRM Reporting Customization Training
At CRM Success, we have trained companies on the top 10 CRM software platforms giving our training teams the ability to bring industry best practices and experiences to every CRM training session. Whether you are looking for Microsoft CRM training or SalesForce Training give us a call today to find out more about our CRM training courses.