The strategy is to maintain current customers, and keep the long term cost of ownership and development stable.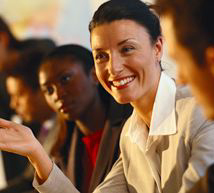 Most SalesLogix customers choose it for customization and flexibility of the on premise solution. Saleslogix typically feeds from the ACT software corporate market and historic or very custom CRM's with smaller user bases. With the largest team of Saleslogix consultants in the country, we are able to rescue and redesign and redo Saleslogix right, rather than 'throwing the baby out with the bath water'. There are often multiple ways to do something in SalesLogix. Knowing the best, most direct and efficient way is what we offer. We also do migration to or from SalesLogix.
The SalesLogix CRM suite is a comprehensive, mature, multi-industry proven CRM solution and the Saleslogix sales module is at its core. Sales are the lifeblood of nearly all companies; SalesLogix sales module maximizes the sales potential of your staff.
One Location for all Customer Information
The ease of use, flexibility, and capabilities of the Saleslogix sales module means your sales representatives will find it convenient to track all sales related activities about a customer or potential lead. Capabilities include:
Manage, oversee, and supervise all aspects of the sales cycle (even when customized to your business process requirements), from lead through close.
Monitor, track, and forecast sales activities of your sales representatives to assist in improving business processes and sales representative performance.
Quickly find detailed account and contact information.
Report on sales activities and performance that can be enhanced and tailored to the specific needs and reporting requirements of your business.
SALESLOGIX SALES KEY FEATURES
Account & Contact Information
Opportunity Management
Real-time, Interactive Dashboards
Calendar & Activity Management
Advanced Outlook Integration
Sales Process Automation
Contact Processes
Sales Forecasting
Customer Communications
Literature Fulfillment
Reference Library
Competitor Tracking
Integrated Marketing
Integrated Customer Service
Integrated Support
Back-Office Integration
Business Alerts / Notification
Windows, Web, and Wireless
Reporting
SalesLogix Canada will Increase Sales Productivity and Performance
Through our Sales Performance Audit our sales performance improvement experts can investigate and analyze your existing Sales software and make recommendations that will increase user adoption, information accuracy, and improve results.
Is your current sales software solution?
Providing access to real-time dashboards of your sales pipeline enabling accurate analyze revenue potential and probability of closing.
Support segmenting your sales opportunities by account manager, region, or status.
Automate and alert pending sales cycle tasks customized by business conditions defined by your sales process requirements.
Unleash the power of Crystal Reports to produce complex powerful useful reports.
Sage CRM SalesLogix software is the most complete and reliable Customer Relationship Management tool available today. Get your prospect's attention, close sales and provide exceptional customer service with Sage CRM SalesLogix products. For teams of 10 to 1000 people, it is possible to be focused and proactive regardless of where they are.
Improved Marketing Processes and full Campaign Management ensure the most effective results tracking. Sales receive complete, easy to use information and strengthen relationships with prospects. Sage CRM SalesLogix software also incorporates cutting-edge Internet and emerging mobile technologies.
What Sage CRM SalesLogix software can do for me:
Sage CRM SalesLogix software synchronizes the efforts of all your people enterprise wide increasing productivity. Sage CRM SalesLogix system is totally customizable, leveraging the power of information to give you what you want when you need it. You'll market effectively, sell more and provide superior customer service in less time… [more]
See Sage CRM SalesLogix eDemo:          new!
Features Day in Life of SalesLogix user, power of Design Audit and free evaluation copy of SalesLogix CRM software… [more]
Sage CRM SalesLogix Seminars:          new!
Seminars on Sage CRM SalesLogix available in New York, Miami, Dallas, Toronto, Scottsdale… [more]
I want technical support:
Choose one of the following Priority Support Program options… [more]
I want to upgrade:
If you use Sage CRM SalesLogix programs on a daily basis you will want to upgrade to the latest version because it includes… [more]
I want more training:
Training gives you the confidence and knowledge to make it happen. Classes are offered one-on-one or as group sessions worldwide. Learn at your own pace… [more]
I want to integrate Sage CRM SalesLogix with accounting or other software:
Did you know Sage CRM Sales Logix core technology has over 1000 features, which makes it an extremely powerful program? Sage CRM SalesLogix software can be customized to connect to… [more]
What if Sage CRM SalesLogix software is not meeting your needs?
We have seen everything from crashed and poorly implemented, to downright destructive and difficult to use installations. Not to mention a lack of training and quality support.

CRM Success resolves all of these issues and you'll be glad you called… [more]
Get More Info
Get a first look at just some of the benefits SalesLogix sales software has to offer in our SalesLogix product demos. Want to know more about SalesLogix sales software? Fill out our Get Info form, and we'll send you what you need.