Microsoft CRM Software Demo Demonstration of CRM Capabilities Features
---
25 Microsoft CRM Screenshots
QIEM offers its customers a unique opportunity to see a thorough and consistent collection of Microsoft CRM screenshots ((full Microsoft CRM software demo).
We had to protect them from piracy, the software itself does not bear any watermarks. Wait a few minutes before all images open up. Microsoft CRM demonstration can make this software more understandable for you. Demo CRM software lesson is the best way to get acquainted with this product
If you have any questions or require further assistance, give us a call at
1 800 611-4343
Start…
1. Microsoft CRM Activities View in Microsoft Outlook. User sees
the same activities as in Microsoft CRM application.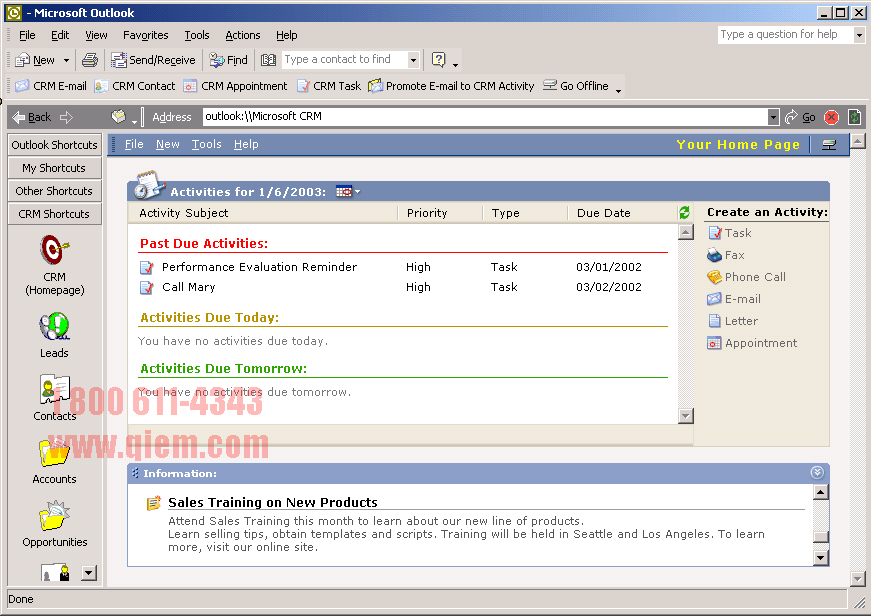 ---
2. Microsoft CRM Leads View in Microsoft Outlook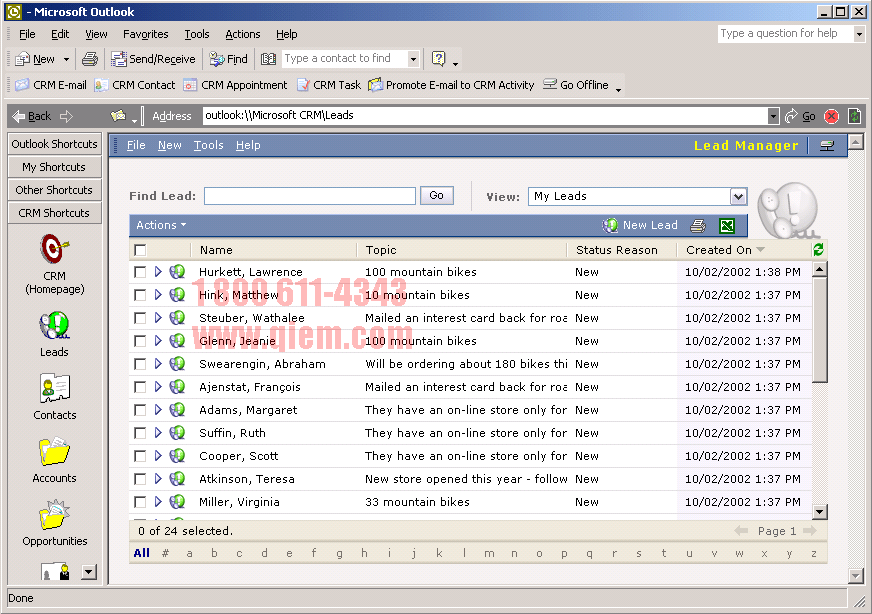 ---
3. Microsoft CRM Products View in Microsoft Outlook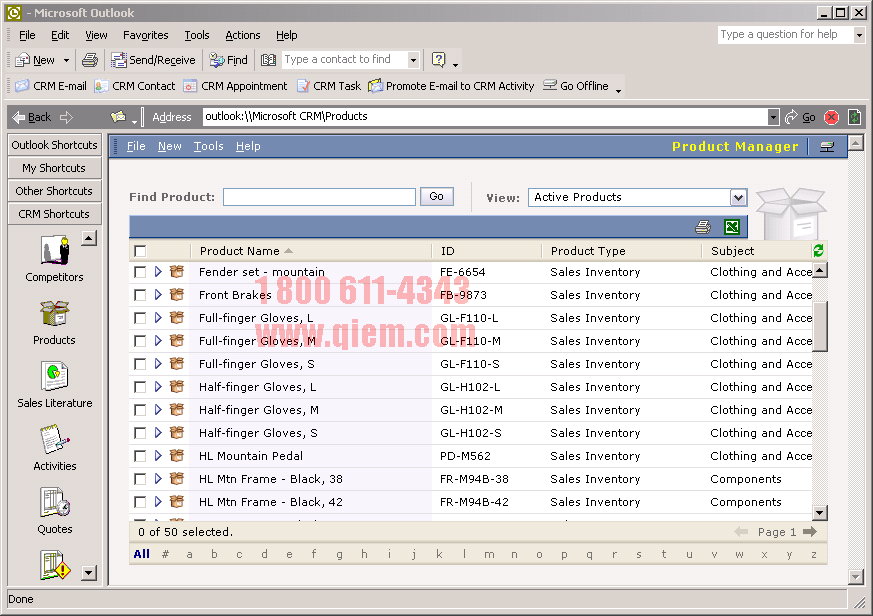 ---
4. Microsoft CRM main screen (Home page)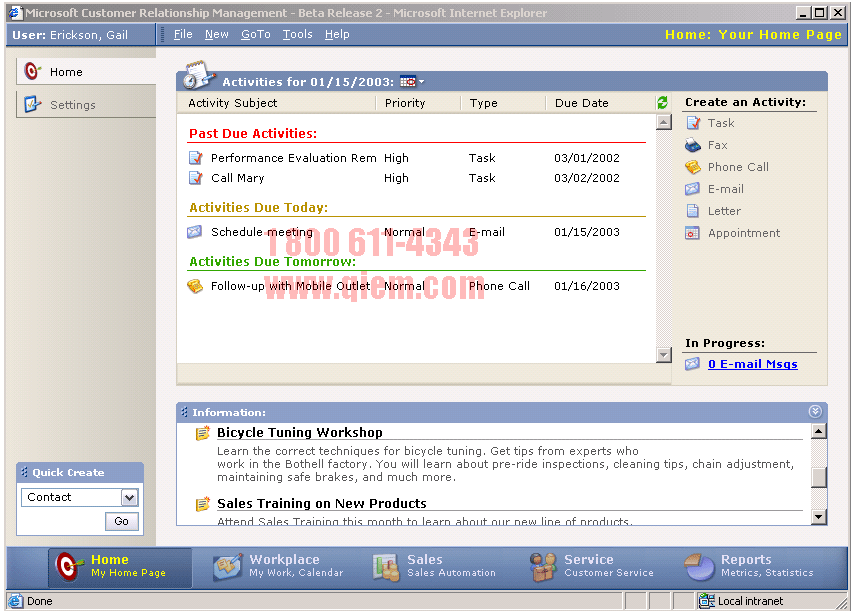 ---
5. Microsoft CRM Settings page (Home module)
Modules navigation is located at the bottom of the screen. There 5 modules in Microsoft CRM: Home, Workplace, Sales, Service and Reports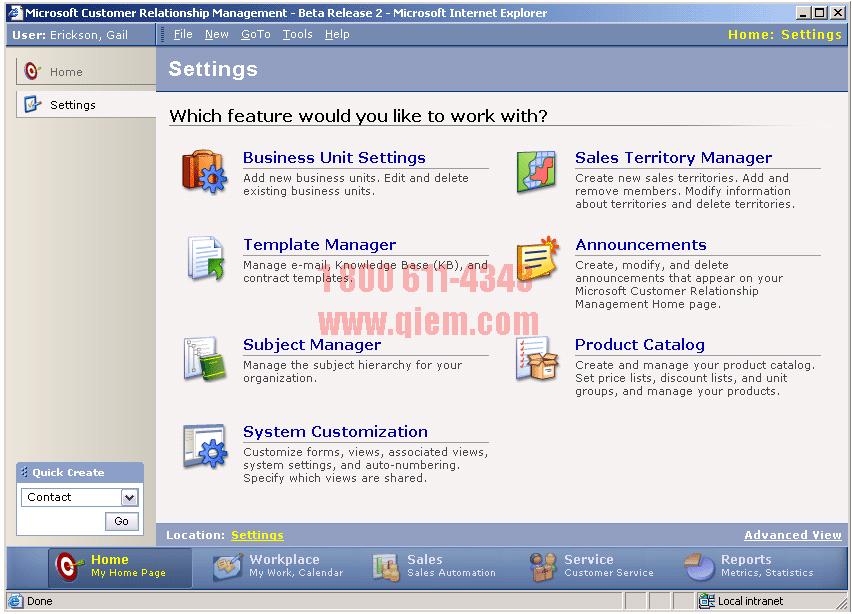 ---
6. Background: Workplace screen (Workplace module)
Foreground: Opened task "Call Mary"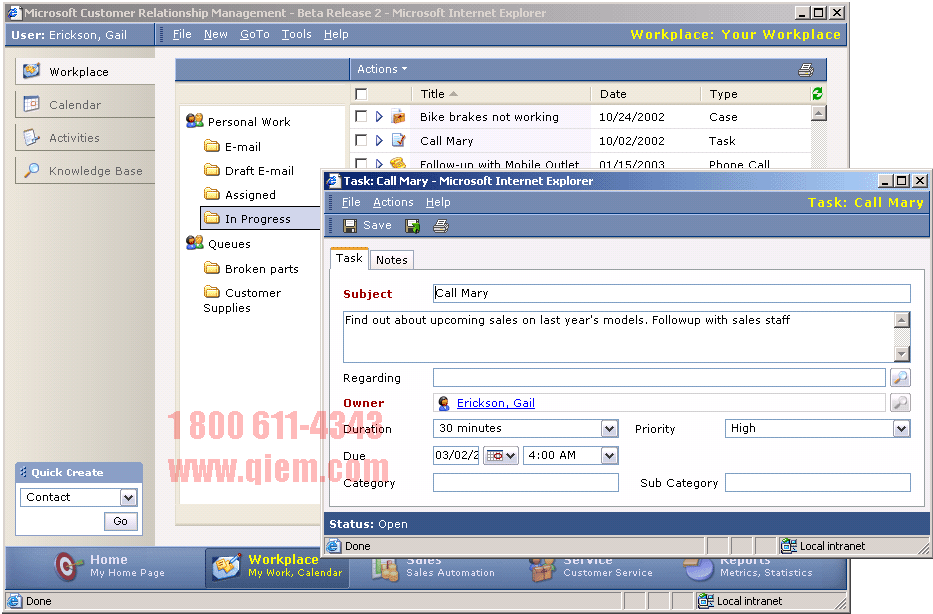 ---
7. Leads screen (Sales module)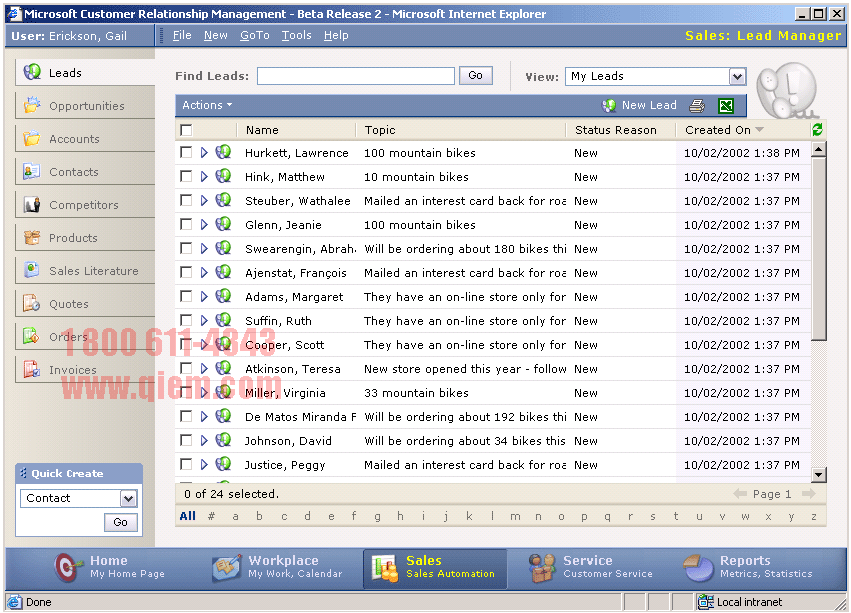 ---
8. Background: Quotes screen (Sales module)
Foreground: Opened quote "Road Bikes" Note, that fields with red labels always must have values.
Fields with a search button can be looked up and linked to another record. Grayed out fields cannot be edited in this screen, which allows greater control over data consistency
(users with different administrative roles have different access rights)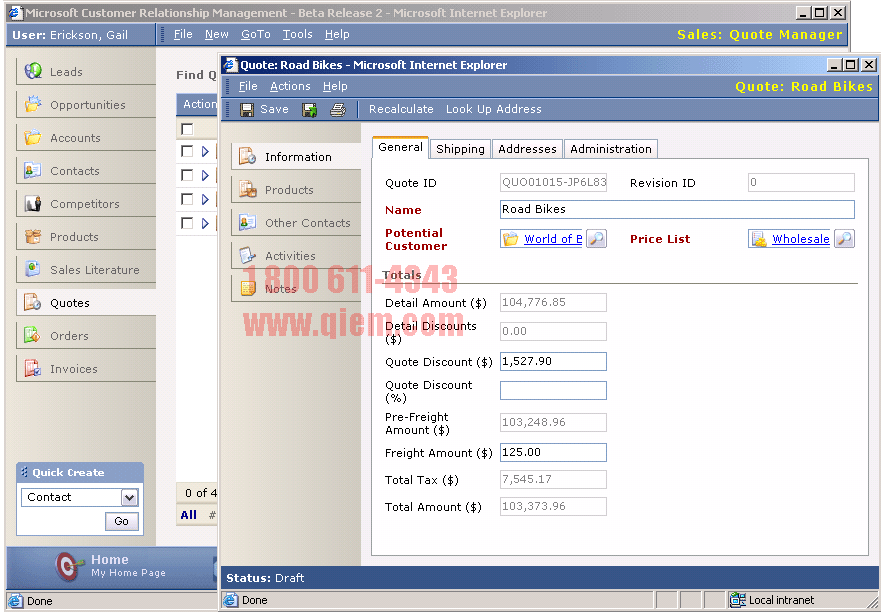 ---
9. Background: Accounts screen (sales module)
Foreground: Opened account "Travel systems", General tab. You'll see later how you can modify screens yourself to fit your business process.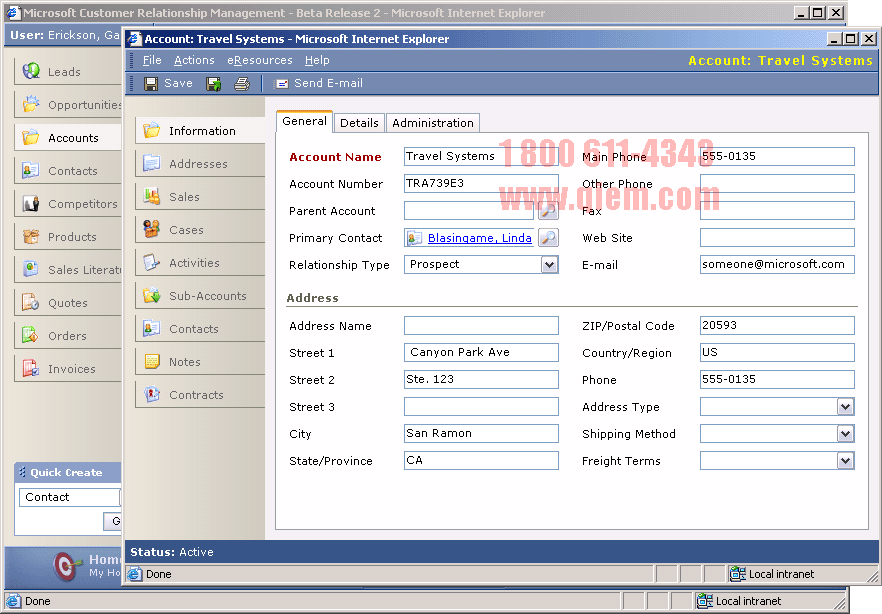 ---
10. Same opened account as in Screenshot 9, only Details tab. Each account can be linked to only one territory (you can define territories through the Sales Territory Manager in the Settings area)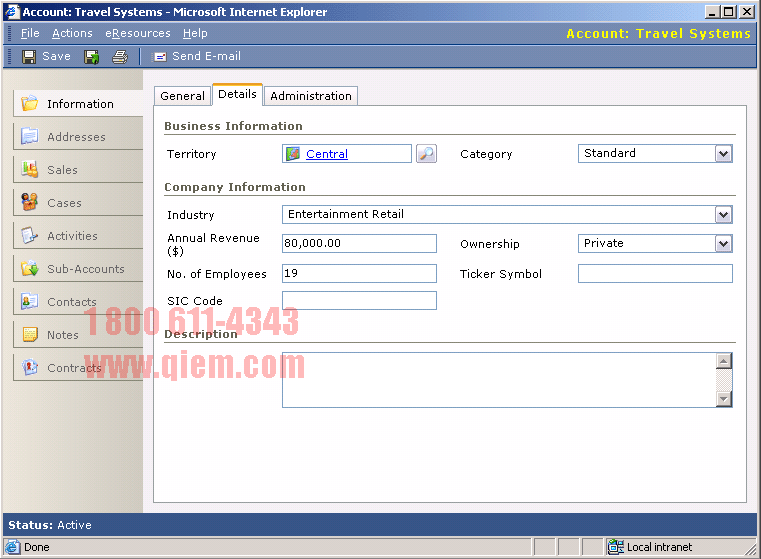 ---
11. Same opened account as in Screenshots 9 and 10, Administration tab. You can see whom this account is assigned to, the originating lead, contact preferences etc. Note menu tabs on the left. For this account you can keep multiple addresses, information about sales, cases, activities, contracts, contacts linked to this account, sub-accounts hierarchy, and your own notes.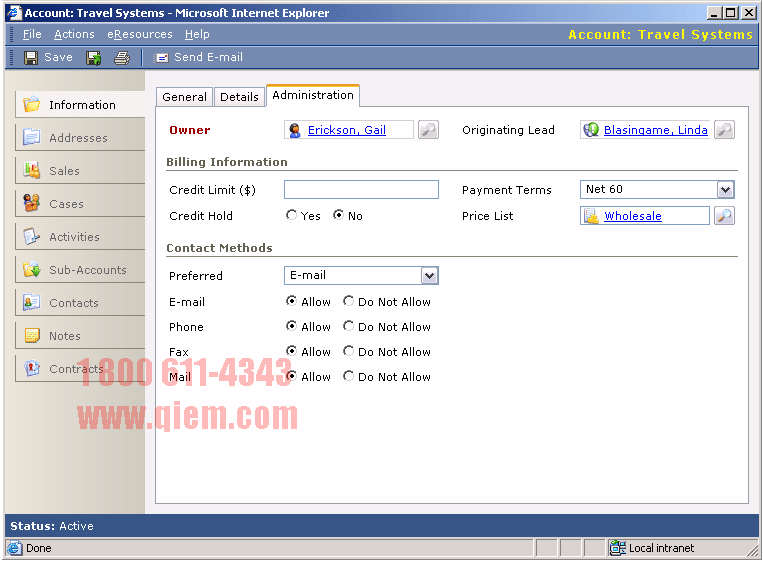 ---
12. We are now in Service module, mostly used by support reps, Knowledge Base screen. You can keep your KB articles in 3 different folders: Draft (means you're still working on them), Unapproved (you're finished but your administrator didn't approve it yet), or Published (articles are available to service reps and can be used for a reference to customers).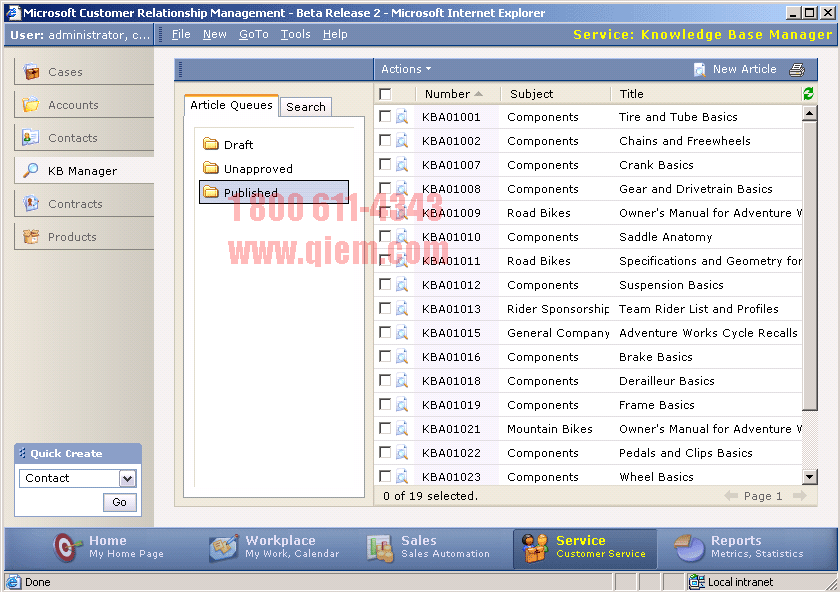 ---
13. Main screen of Microsoft CRM Reports module, Sales Reports tab. Note, you have 3 categories for reports: Sales, Service and Admin reports. Inside each one of these you have different types of reports, e.g. account, competitor, activity, opportunity, lead, order, etc.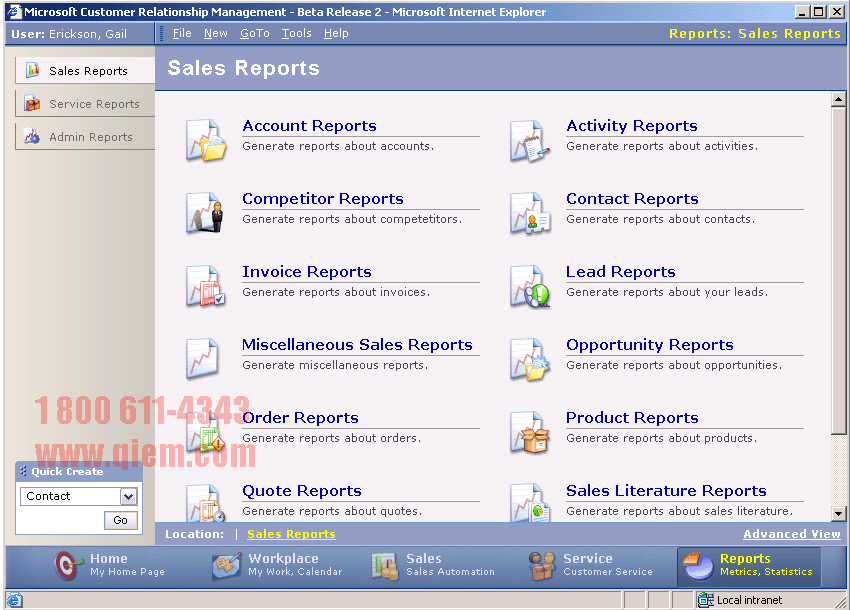 ---
14. Service reports (Reports module)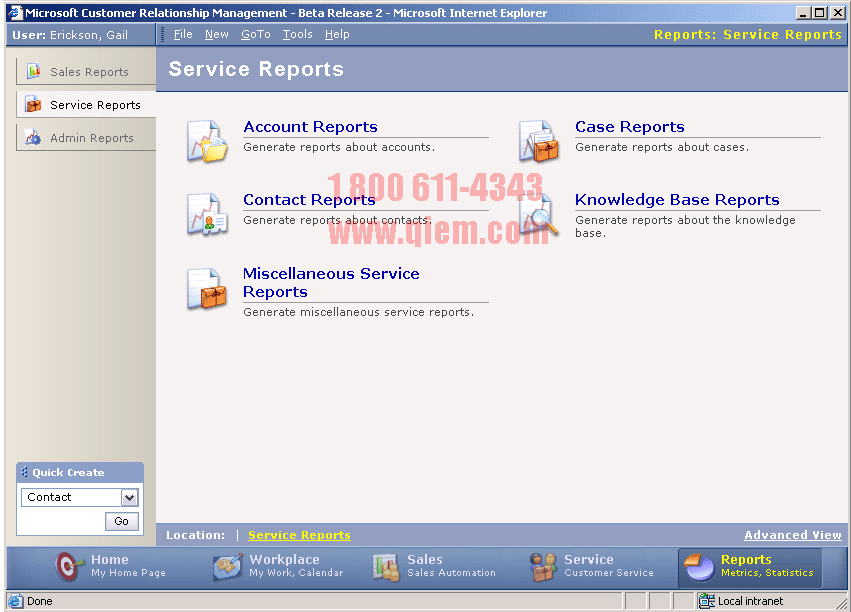 ---
15. Recall Screenshot 5, the Settings area (Home module). This screenshot shows you what's inside of the Product Catalog. Read the descriptions for each item, they give a good idea for this section.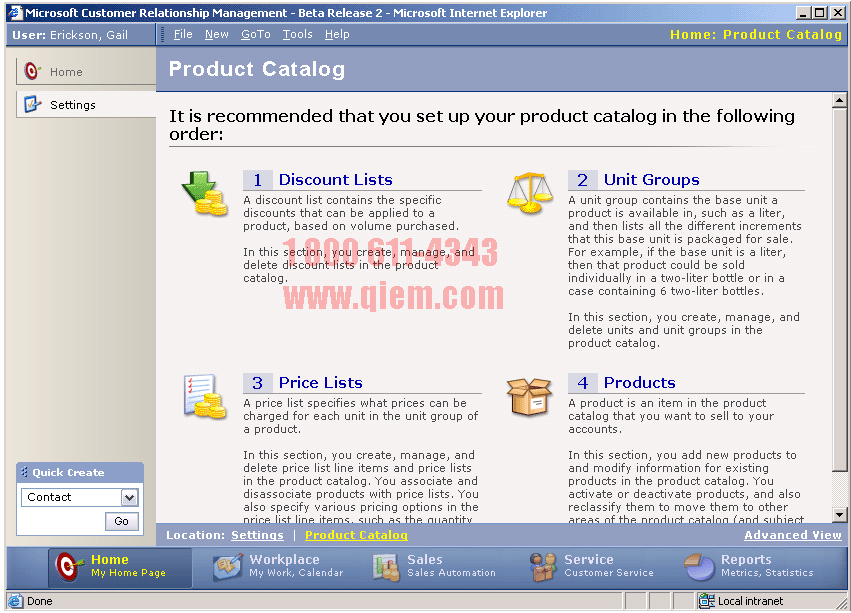 ---
16. System Customization screen accessible from Settings screen (Home module). You can customize screens for different types of records, like leads, opportunities, accounts, etc.

---
17. Background: Screenshot 16 Foreground: We are editing Opportunity screen. You can drop in new tabs (e.g. General), sections (e.g. Description), or Fields (e.g. Topic). You can edit even their properties. Green buttons with arrows allow you to move your fields around.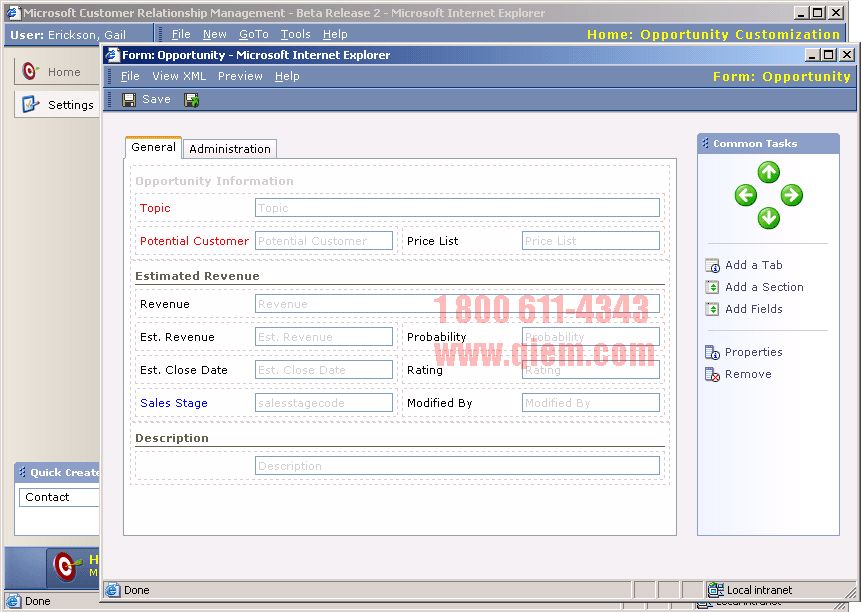 ---
18. We are back to the Sales module and opened and Opportunity record "44 High end road bikes".Here you will see the results of your screen modification done on Screenshot 17 (not shown).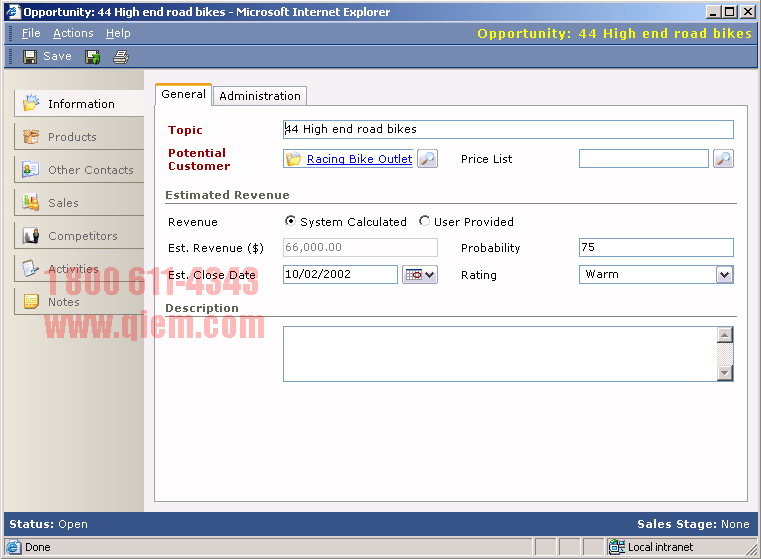 ---
19. Besides side tabs and bottom navigation, Microsoft CRM has a standard top bar. For example, GoTo menu allows you to jump fast between modules and their contents. Tools menu has an option to import records into Microsoft CRM. Also note how easy it is now to keep track of your competitors with Microsoft CRM Competitor Manager.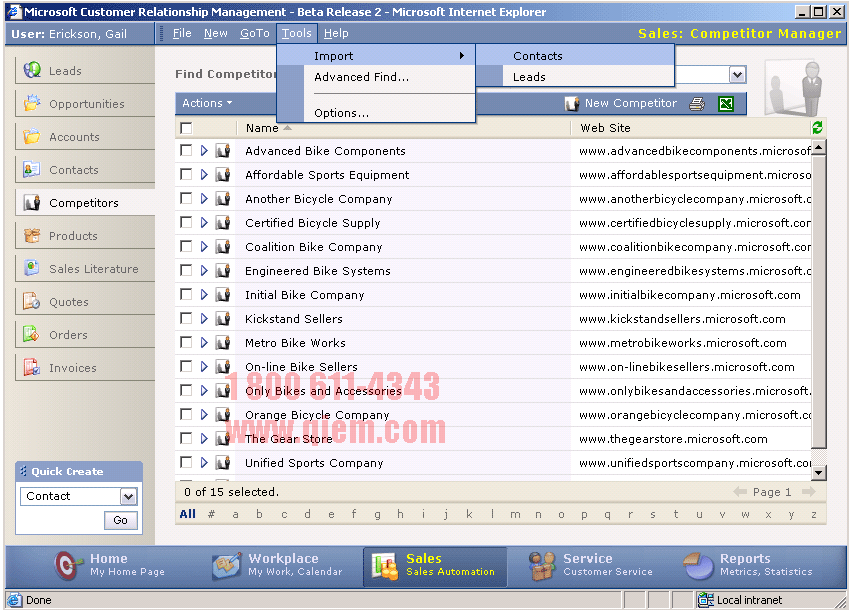 ---
20. Opened Invoice for ML-Road-Frame order. Microsoft CRM allows you to create a quote, turn it into an order, and then invoice it. No more double-entry of your data.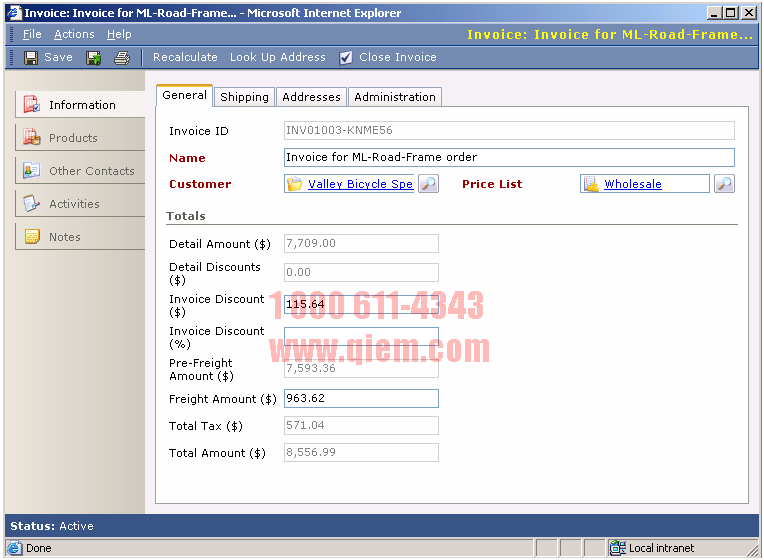 ---
21. If you are a system administrator, you will appreciate a great control over user access rights based on their role, e.g. note how Marketing Professionals can see all leads and opportunities but cannot delete them. You can access this screen from Business Unit Settings, Settings area (Home module)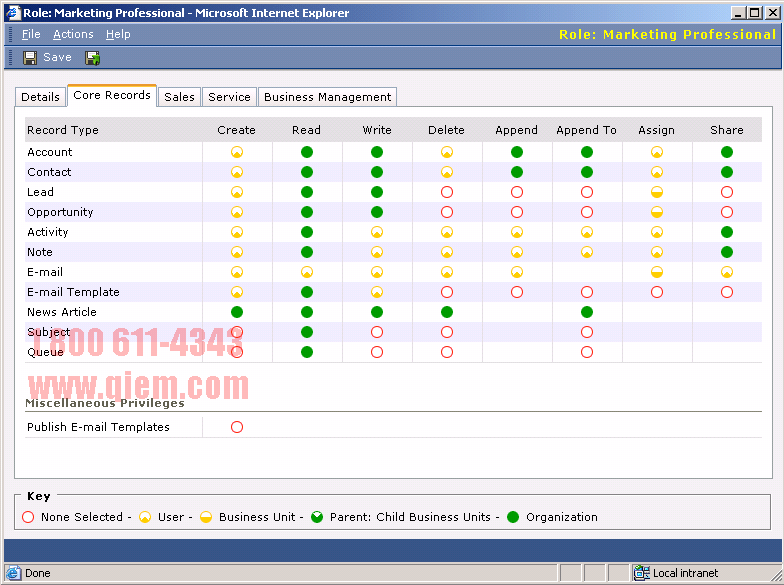 ---
22. Microsoft CRM Workflow Monitor is a stand-alone tool that allows you to control your sales processes. (Professional edition)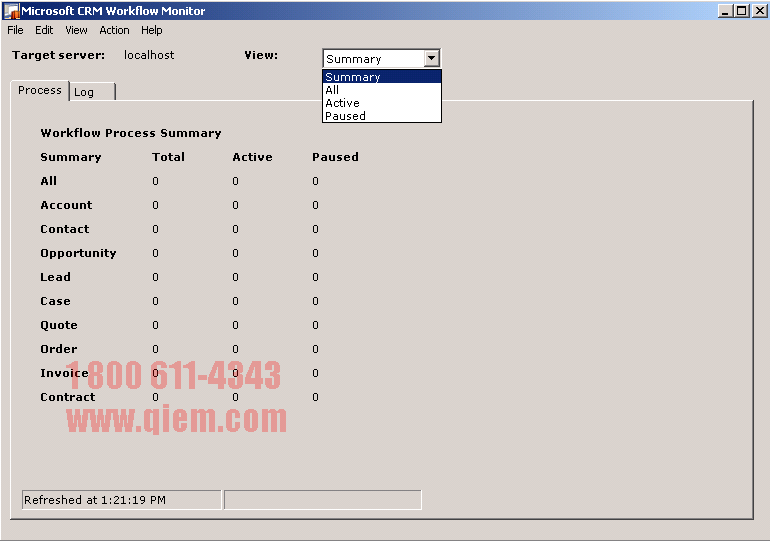 ---
23. Microsoft CRM Deployment Manager (stand-alone tool, Professional edition). Manage your schemas, servers and licenses.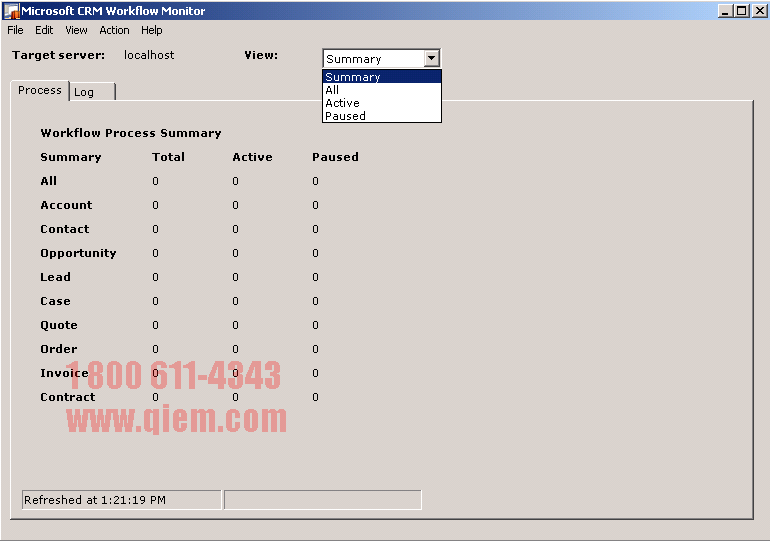 ---
24. Third (and final) stand-alone tool for Microsoft CRM —Microsoft CRM Workflow Manager (Professional edition). You can control how data is routed around in your organization. Fill-in rules templates.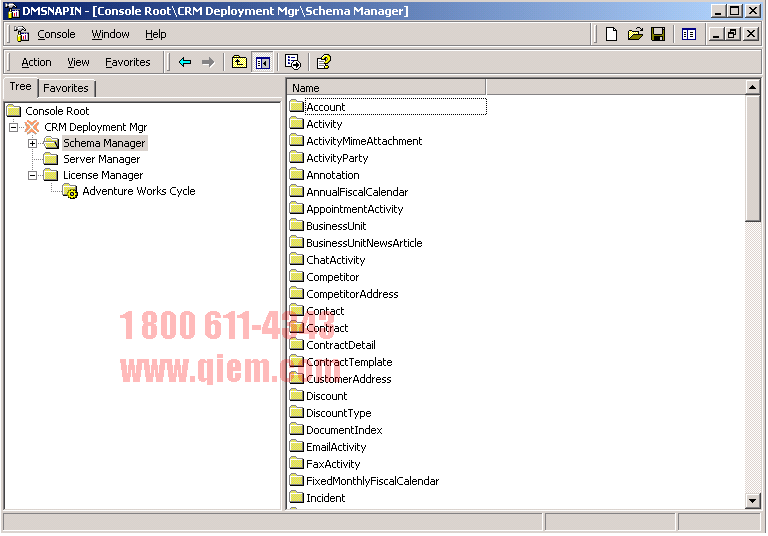 ---
25. Microsoft CRM Workflow Manager (as in Screenshot 24). We just created a rule that when a new case is created for account "First Cycle Store", it will be automatically assigned to Stefan Del Marco.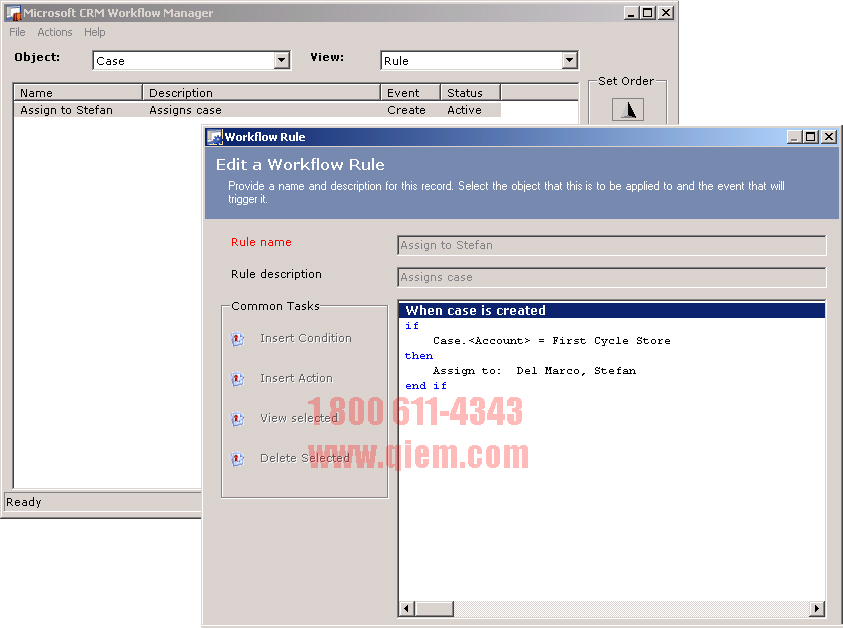 ---
Microsoft CRM has a lot more features and screens that can be shown here. We strongly encourage you to call us at
1 800 611-4343 and schedule your Microsoft CRM Design Audit. We will show you Microsoft CRM inside out and even compare it to other CRM packages.